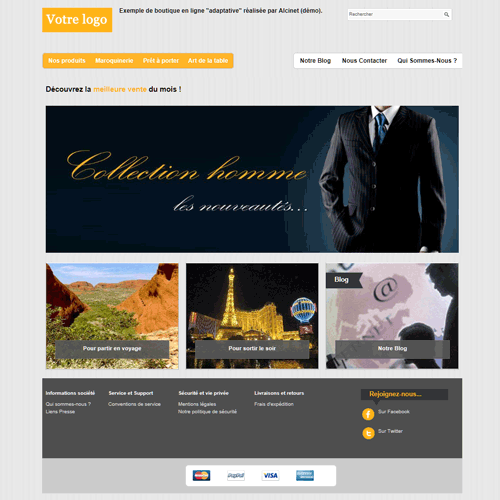 Welcome to our on-line demo boutique; its mobile-friendly display automatically adapts to any screen size : PC, tablet or smartphone. To visit, click here.
This demo was developed using Drupal Commerce. Some facts about this demo boutique:
It proposes the same features one finds on major brand e-boutiques.
The boutique is developed in "Responsive Web Design" mode. This means that it is responsive and fluid, so that its contents adapt to different screen resolutions (PC, tablet or smartphone).
It enables our clients to benefit from a flexible e-commerce solution, just like major brands, at an affordable price and with a professional look.
The boutique's main features:
Entirely tailored to your specific requirements (logo, header, background color, text formats, layout, slideshow...).
Has an elaborate product catalogue with several product variants (different colors, sizes, prices depending on the variant...).
Each article of the boutique can be grouped in a collection, such as "Ready-to-Wear", "Tableware", "Leather goods"...
Each article has a detailed product description.
Easy to use, navigation is intuitive and delivers features such as multiple images, zoom features to visualize product details, easy-to-manage shopping cart, navigation history providing consumers with a pleasant shopping experience.
It has a powerful search engine, so that you can search articles by collection, by brand, by type, within a certain price range...
An elaborate "back office" to manage orders, shipping, stock, payments, follow-up emails, invoices, customer accounts, sales analyses...
You can create discount codes for your best customers, promotions, flash sales...
Different VAT rates can be defined.
Shipping costs can be calculated, based on criteria such as shopping cart total, weight or delivery date.
The pages of the boutique are search-engine optimized.
You can propose different payment methods (credit card, check, cash...).
The boutique can link to social media such as Facebook or Twitter, a blog, RSS.
The boutique can be created in different languages, and include options for different currencies.
Finally, since the products in this demo are not really for sale, you cannot proceed to the final payment step. Moreover, the contents of the shopping cart are periodically erased so that each visitor has a clean slate to work from. When the shopping cart is emptied, the site will be unavailable for a few moments. If this happens while you are playing with it, please come back and try again a few minutes later.
Have a nice visit...